Matches 7: Michael Nelson Jagamara - A Shared Space
26 October 2019

to

30 November 2019
Artists
Click orange artwork title to see pricing or email us here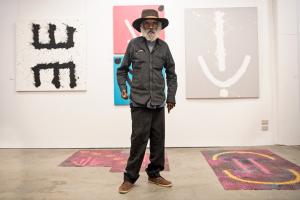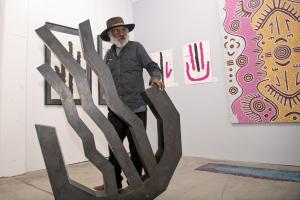 Michael Nelson Jagamara - A Shared Space focuses on MNJ's essential story/place images and in doing so covers something of this unique artistic trajectory. Examples of paintings in a desert dot style and more minimal expressionist works alongside early experiments on paper are all placed in proximity together in the Ground Floor gallery.
A large part of Jagamara's contemporary practice & recognition has been his ability to work with other artists. In the mezzanine gallery are lively examples of collaborations with Indigenous & non-Indigenous artists including David Paulson, Ian Waldron, Imants Tillers, Joanne Currie Nalingu, Michael Eather and Rosella Namok. In 2014 Jagamara's graphic gestural forms were re-imagined as classic hard-edged sculptures. These have been fabricated in a variety of sizes in bronze, polished stainless steel, polyurethane and aluminium with examples on display.
For the more budget conscience collector, FireWorks gallery has an extensive range of MNJ's limited edition prints & original works on paper including a 2016 commemorative limited edition print of Five Stories 1984. This remains MNJ's iconic image, & as many critics have since commented, arguably catapulted both he & his peers into the epicentre of a global arts movement when the work first went to New York and featured in the Dreamings exhibition in 1988! When the original work was resold in 2016 for $680,000AUD it became (and remains) the highest price paid for a work by a living Indigenous artist.