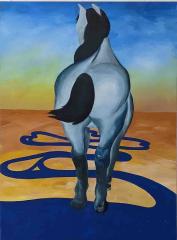 Exhibition title/s:

Walala Tjapaltjarri: Tingari Arrangements & Ian Waldron: The tower of blue horses

Exhibition duration: 

6 May to 11 June 2022

Where:

FireWorks Gallery, 9/31 Thompson St, Bowen Hills

Exhibition opening:

Saturday 7 May 2- 4pm

 

Media Contact:

 

Michael Eather

Phone:

0418 192 845

Email:

Exhibition cost:

Free
FireWorks Gallery presents solo exhibitions by two Indigenous artists who are from geographically diverse areas and whose artworks are stylistically different. In the mezzanine gallery Tingari Arrangements by Western Desert artist Walala Tjapaltjarri provides a range of paintings, works on paper and new sculptures created in Brisbane from 2001-2022. In the ground floor gallery a new series of paintings by FNQ artist Ian Waldron titled The tower of blue horses will be on display.
Walala Tjapaltjarri lived nomadically in the Tanami Desert until 1984, before he and his family - dubbed The Pintupi Nine - wandered into Kiwirrkurra, a remote outstation near the NT/WA border. He began his artistic career in 1991 with the classic 'dot and circle' style, but soon developed his own distinctive methodology, abstracting and simplifying the men's Tingari ceremonial designs. Several trips from Alice Springs to Brisbane between 2001-2004 - for experimental workshops with Campfire Group Artists - further amplified and extended the artist's repertoire. Ink designs on paper from this period appear almost calligraphic, and have enabled Walala to translate his designs into unique sculptural forms including a range of new Tingari works sand cast in bronze.
In the ground floor gallery Ian Waldron presents a striking series of recent paintings including the title piece The tower of blue horses. This work is a reference to German expressionist painter Franz Marc's 1913 work of the same name. The artist comments: I have been painting horses a long time. On Kurtjar country, in the Gulf of Carpentaria, they are part of our kinship system, regarded with familial care and affection…When I decided to paint a series in blue, I was reminded of the blue horse works of Franz Marc. I was struck by the parallels between my own and Marc's treatment of animals, particularly with regard to spiritual kinship and the status of horses, not as beasts of burden, but kin. Another parallel between Franz Marc's and Ian Waldron's oeuvre is Ian's 2020 work The pale horse, painted during COVID, with its biblical reference from The Book of Revelations to 'the four horsemen of the apocalypse' which Franz Marc had also cited, anticipating World War One.
Gallery director Michael Eather comments "Both these artists (Walala and Ian) have such a timeless visual language, you could even be forgiven thinking this is a 20th century modernist exhibition - which I find very satisfying!"