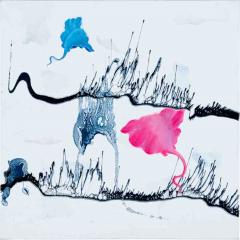 Exhibition title/s:

Small Mercies & Shorelines

Exhibition duration: 

4 December 2021 - 5 February 2022

Where:

FireWorks Gallery, 9/31 Thompson St, Bowen Hills

Exhibition opening:

4 December 2021, 2-4pm

 

Media Contact:

 

Michael Eather

Phone:

0418 192 845

Email:

Exhibition cost:

Free
Group exhibition Small Mercies brings together a selection of smaller-scale works by a diverse line-up of artists, appreciating that as the year 2021 comes to a close, celebrating what we're thankful for is sweeter in small packages.  
In the ground floor gallery, this selection exhibits new and existing works by Alick Sweet, Itamar Freed, David Paulson, Jennifer Herd, Joanne Currie Nalingu, Matthew Johnson, Michael Nelson Jagamara, Miles Allen, Pat Hoffie, Paul Bong, Yvonne Mills-Stanley, Julie Nangala Robertson Shirley, Cecily Napanangka Marshall, and Gloria Napangardi Gill.
Yvonne Mills-Stanley's On the way we checked in at Billies Bay (image 1) is from her 2021 body of work, describing landscapes seen during long drives from Wivenhoe to Somerset. The artist comments, "A drive down the mountain and along the Wivenhoe Road becomes one of those rare, wonderful days when everything seems to go your way." The moody interplay of dappled light on grasses with ominous grey skies reflects the artist's optimism, with days as Yvonne describes a perfect example of small mercies.
Driven to regain many of the stories and culture lost to European settlement, Paul Bong creates new imagery through his printmaking process. While the Far North Queensland artist typically works in large-scale format to encompass a complex and layered aesthetic, smaller works like Cook/Map ed. 1 (image 2) speak in a more pared-back but equally loaded language. While Bong's work makes reference to a coastal experience, works like that of Yuendumu artist Gloria Napangardi-Gill (image 3), are influenced by an entirely different, desert existence.
Upstairs, Shorelines (images 4, 5, 6) makes a debut, exhibiting a series of new collaborative paintings by Samantha Hobson, Rosella Namok, Fiona Omeenyo and Michael Eather. While the four artists have collaborated in a range of formats, new works feature combinations of Indigenous figures within surreal coastal landscapes, tumbling boulders and resting stones; ships, portals and an oceanic surge suggesting beguiling narratives unfolding with the mystery and chance of a blended artists' country.
Associate Professor Sally Butler (University of Queensland) comments on the exhibition, "Recent paintings by four Queensland artists prompt us to think about shorelines as more than boundaries between water and land. They put a lens on shorelines as visual symbols of a collaborative mindset and a creative co-operative where waves of different ideas overlap and gently build into something new – something unexpected and fresh."
Butler further comments, "Together they produce a powerful visual story set in a shoreline across different cultures."
FireWorks Gallery audiences will be pleased that the very popular current exhibition Evidence of Scale will continue through until February 2022.