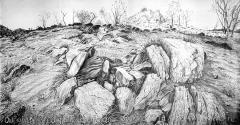 | | |
| --- | --- |
| Exhibition title/s: | Rod Moss: All My Fat Country & Samantha Hobson: Willa Blo Punga (Tide of the Fish) |
| Exhibition duration:  | 10 September to 16 October 2021 |
| Where: | FireWorks Gallery, 9/31 Thompson St, Bowen Hills |
| Exhibition opening: | 2-4pm Saturday 11 September 2021 (Artists will be present) |
| Media Contact: | Michael Eather |
| Phone: | 0418 192 845 |
| Email: | |
| Exhibition cost: | Free |
Rod Moss: All My Fat Country, on the mezzanine level at FireWorks Gallery, will comprise a series of large, magnificent graphite drawings on Waterford paper. The exhibition will build on the repertoire of the artist's current and successful exhibition (with associated catalogue) of the same name at the Araluen Cultural Centre in Alice Springs. By contrast, some twenty recent paintings completed in glistening turquoise blues and greens by Lockhart River FNQ-based Samantha Hobson in Willa Blo Punga (Tide of the Fish) will be displayed on the ground level.
Not long after arriving in Alice Spring from Melbourne in the early 1980s, Rod (artist and author) became immersed in the friendships, stories and the culture of the local Arrente people of Central Australia. The 8 large graphite works, with dramatic clusters of rocks being exhibited in All My Fat Country demonstrate the artists astonishing capability to depict critically important sites of the Arrente peoples.  Regarding Creekbed Cliff (Image 1), Rod comments, 'This is one of several drawings made of features found along Irlpme Creek that occasionally feeds the Todd River. The creek bed is one of our family's choice camping spots. First sight from our swags of the morning sun inflaming the rocks is a premium experience.' The cluster depicted in Out Of The Seed Flies a Shadow Looking For a Name. Call it Breath (Image 2) is located near the headwaters of the Todd River/ Lhere Mparntwe. Centuries of Sobs & Lamentations (Image 3) is another striking example of what the exhibition holds for the viewer.
Samantha's exhibition title work Willa Blo Punga (Image 4) is explained by the artist, 'Willa is the movement/ rippling of the water caused by fish swimming. When we are fishing in the estuary – in a boat or from the bank - we know there are fish around because you can see the willa of the fish. That is how you know it's a good fishing spot. Even when you are dragging a net you look for the willa to know where to drop the net.' This estuary is also depicted In Wuntalpa season 'Auyu' (Image 5) where the brown foam attracts butterfish, which will bite! The mangroves here contain shells, crabs and fish which are collected for food. The centerpiece of the exhibition is unashamedly the 5 panel work Fish jump (Image 6), a tribute to the artist's expression across a larger scale and format.
Michael Eather, Director of FireWorks Gallery comments, 'These two artists come from very contrasting parts of the country, each with distinctly different techniques, yet both reveal in their art a complete immersion into their respective environments. The artists are held in numerous private, corporate and public collections.'