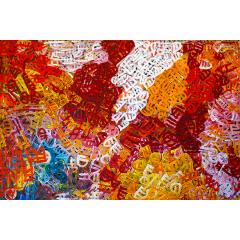 Exhibition title/s:

Body Line and Now & Then: Works from Papunya Tula Artists 1974-2020

Exhibition duration: 

27th March 2021 to 1st May 2021

Where:

FireWorks Gallery, 9/31 Thompson St, Bowen Hills

Exhibition opening:

Saturday 27th March 2pm-4pm

 

 

Media Contact:

 

Michael Eather

Phone:

0418 192 845

Email:

Exhibition cost:

Free
Bringing together a diverse and highly accomplished repertoire of artists, group shows Body Line and Now & Then exhibit art from remote Australian communities, each focusing on the broad landscape through two very different lenses. Body Line explores the ceremonial practice of body painting, and what this means to artists from different Indigenous groups ranging from the Western Desert to the eastern coastline of Cape York Peninsula. Now & Then presents a snapshot of how the painting aesthetic from the Western Desert Art Movement has evolved over the years. Some of Papunya Tula Artists' cooperative most renowned artists are featured.
Held in the mezzanine gallery, Body Line showcases artworks encompassing twenty paintings and three silk batik works. This exhibition explores relationships with ancestors and tradition through ceremonial use of motifs and designs. From the exuberant colours of Utopia artists Emily Pwerle (Image 1) and Minnie Pwerle (Image 2) to more subdued and earthly tones used by Tiwi artist Pedro Womaeamirri (Image 3), intricate linework is key to the practice of ceremonial body painting, and its application to fine art painting.
Building on FireWorks Gallery's longstanding history of exhibiting works from the desert communities, Now & Then pays homage to the ever-changing tradition of Western Desert art. Held in the ground floor gallery, the exhibition draws contrasts between the traditionally-toned 1976 work on masonite by Ronnie Tjampitjinpa (Image 4) and the experimental expansion and contractions of the dot seen in fellow Kintore artist Eileen Napaltjarri's work from 2019 (Image 5). Exploring an entirely different representation of his relationship with the landscape, Kiwirrkurra artist Bobby West Tjupurrula's recent optical illusionary works (Image 6) almost discard the notion of the painted dot altogether. Warm desert colours of parched ochres and lush salmon pinks maintain the link between the expressive diversity of this exhibition of twenty paintings.
The exhibitions present an ideal opportunity for both art enthusiasts and collectors to view and acquire pieces sized ideally for their home or office. Says FireWorks Gallery director Michael, "Since the early 1970s, Indigenous paintings from the Western Desert as well as more recently from other Australian regions still captivate the hearts and minds of audiences all over the world. Body Line and Now & Then bring together intimate-sized works alongside some large statement pieces."
Artwork prices range from: $990 - $45,000
IMAGE CAPTIONS:
Body Line
1. Emily Pwerle Body art – Women's Dreaming acrylic on linen 2009 122x182cm FW19527 (Utopia)
2. Minnie Pwerle Awelye Atnwengerrp acrylic on linen 2003 120x90cm FW7249 (Utopia)
3. Pedro Wonaeamirri Pukamani body paint design acrylic on linen 1999 63x95cm FW20057 (Tiwi)
Now & Then
4. Ronnie Tjampitjinpa Watunuma acrylic on board 1976 74x58cm FW20055 (Kintore)
5. Eileen Napaltjarri Untitled acrylic on linen 2019 61x55cm FW19946 (Kintore)
6. Bobby West Tjupurrula Untitled acrylic on linen 2019 61x55cm FW19950 (Kintore)
Images can be downloaded from Dropbox here:
https://www.dropbox.com/sh/1n5770j6eg2q090/AABna8m9GmeBccfusie_MT_Wa?dl=0