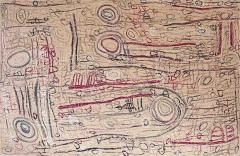 Exhibition title/s:

Motherline: Charmaine Pwerle, Barbara Weir & Minnie Pwerle
Pat Hoffie: I will tell you almost nothing

Exhibition duration: 

29 July – 3 September 2022

Where:

FireWorks Gallery, 9/31 Thompson St, Bowen Hills

Exhibition opening:

Saturday 30 July, 2 – 4pm

Media Contact:

Michael Eather

Phone:

0418 192 845

Email:

Exhibition cost:

Free
Through two new exhibitions, FireWorks Gallery presents four female powerhouses of Australian contemporary art. On display in the upstairs gallery will be Brisbane based artist Pat Hoffie with a new body of work, I will tell you almost nothing. Downstairs are three matrilineal generations of contemporary painters, Charmaine Pwerle, Barbara Weir & Minnie Pwerle from the Utopia region in central eastern, NT with a celebratory ensemble of works entitled: Motherline.
Hoffie's new body of work includes both domestic & larger scale oil paintings on canvas & paper created since 2019. Here, figures both recognisable & imagined, float in fanciful landscapes, teasing the viewer's curiosity. These works reflect the chaotic state-of-play in the world since (& before) the impact of the global pandemic. Drawing from epic themes addressed in art history & literature, Hoffie used her isolation to try to make sense of her "fractured, ruptured world view". Her return to studio painting was "motivated by the necessity of seclusion, & by the sense that painting offers a way of silently trying to make some kind of provisional sense of the chaos & confusion of the world around her". This exhibition gives a glimpse of some of the works undertaken over two years including a raft of smaller images that continue the focus on the "improbable, the impossible, the incomprehensible, & those small glimmers of light in between".
In the ground floor gallery, three related Aboriginal painters Charmaine Pwerle (daughter), Barbara Weir (mother) & Minnie Pwerle (grandmother) are exhibited in Motherline. Though FireWorks has consistently shown the work of Barbara Wier & Minnie Pwerle, the gallery is excited to present Charmaine for the first time. This new body of paintings by Barbara & Charmaine has been recently created in their Alice Springs studio. These are accompanied by selected works of Minnie Pwerle's, painted two decades earlier. The resonance in the stylistic influences is still apparent, even decades later.
Barbara's Grass seed paintings are visually quite different to that of both her mother & daughter. Her evocative painting style captures the movement of a breeze through the grasslands. Subtle choices of melding colours create an invigorating yet tranquil glimpse of desert terrain.  The work of Charmaine Pwerle proudly echoes her grandmother's - both wholeheartedly focusing on Awelye, the women's body-paint design. These energetic, gestural markings reflect the traditional body paint adorned by women during their ceremonies. Whilst both styles are festive & playful, Minnie's lines were often thick & bold, while Charmaine employs a thinner stroke with the occasional use of dotting.
Gallery Director, Michael Eather comments:  "Yet again, Pat Hoffie has produced an astonishing new body of work full of raw energy & curiously strange images that match the tumultuous times that many have encountered. The painterly style though, is light & blissful which allows us all in! The works by Charmaine, Minnie & Barbara are also whimsical & imaginative. The two exhibitions combined reveal & celebrate the magic & mystery of the world around us!"