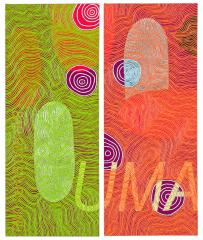 Exhibition title/s:

Joanne Currie Nalingu – River Marks & Alick Sweet – Isle of Dogs

Exhibition duration: 

30 July – 5 September 2020

Where:

FireWorks Gallery, 9/31 Thompson St, Bowen Hills

Exhibition opening:

1 August 2020, 2-4pm

 

Media Contact:

 

Michael Eather

Phone:

0418 192 845

Email:

Exhibition cost:

Free
Opening 1st of August, FireWorks Gallery presents two new exhibitions by local artists: Joanne Currie Nalingu – River Marks & Alick Sweet – Isle of Dogs.
Showing downstairs: For over 25 years Joanne, a celebrated Indigenous artist born in Mitchell, has staked her artistic and cultural identity in a minimally refined painting style. Joanne's distinctive linear patterning symbolises her memories of the Maranoa River. This new exhibition, her first in some years, brings together mixed media painting and sculptural elements. The works incorporate snippets of her Gungurri language and the Maranoa shield designs often layered together and presented as a contemporary new visual language.
Showing upstairs:  Brisbane artist Alick Sweet presents a new sculptural installation of his loveable and quirky dogs.  An impressive grouping of 27 mounted timber dog busts are grouped on a large circular plinth alongside matching studio photographic prints. Everyone, it seems, has a favourite dog and many of their characteristics are brought out through the artist's use of colour, form and design.
Joanne's new paintings have a vibrant dimension to them. Embedded Indigenous language and 'shield' forms have been printed as the background of her canvases providing a contrast to her hand-painted style. The works bring us to a far more contemporary reading of her life in art. Joanne recently commented,
I grew up on the 'Yumba', out west by the banks of the Maranoa River in the 1960s. Now I live closer to Brisbane where we raised our kids and now our grandkids. I've always painted about the Maranoa area, the traditional designs found on shields and artefacts, the lines and colours of the river…I try to keep it simple…clean and sharp!
As much as Alick Sweet's sculptural pieces are about the 'nature' of animals, in this case dogs, they emerge from an acute understanding and appreciation of the artist's core building principals. Within the figurative framework we see abstract considerations such as texture and colour push and pull at each other. To emphasise the individual characteristics of each dog the installation is accompanied by four photographic prints from Alick's studio where the artist has humorously arranged the dogs as if gathered in a canine choir.
These exhibitions bring together two Queensland artists working across a range of mediums and experiences. FireWorks Gallery Director, Michael Eather remarks,
For Joanne, her river has a spiritual dimension. 'River Marks' is an artist's place, one she feels compelled to keep returning to. For Alick Sweet: Isle of Dogs, like the film title, is almost theatrical with its circus style viewing platform allowing viewers to wander, admire or pat each hound at will!
Artwork prices range from: $680 - $22,000