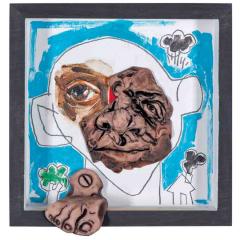 Exhibition title/s:

Evidence of Scale

Exhibition duration: 
Where:

22 October 2021 to 27 November 2021

FireWorks Gallery, 9/31 Thompson St, Bowen Hills QLD 4006

Exhibition opening:

Saturday 23 October, 2-4pm

 

Media Contact:

 

Michael Eather

Phone:

0418 192 845

Email:
Exhibition cost:                    Free
FireWorks Gallery's new exhibition Evidence of Scale features 3 groupings of sculptural works in varying mediums and sizes (from the miniature to the mammoth) by Alick Sweet, Dean Rusling, David Paulson, Michael Eather, Phil Gordon and artists from Pormpuraaw Art & Culture Centre (PACC).
Engulfing the mezzanine gallery are Ghost net sculptures from Pormpuraaw (on the west coast of Cape York Peninsula) by Christine Holroyd, Christine Yantumba, Michael Norman, Mylene Holroyd, Steven Kepper and Syd Bruce Shortjoe. These artworks utilise recycled materials, in particular nets that have been dumped by commercial fishing boats, causing significant environmental harm. Four of these works, including Christine Yantumba's Mudskipper (Image 1) were exhibited in Australia/ Defending the Oceans: Ghost Net Sculptures at The Paris Aquarium and the United Nations in Geneva in 2017.
The wildlife sculptures portray both environmentally and culturally important factors. Artist Syd Bruce Shortjoe remarks, "Our people have a rich tradition of weaving, so Ghost net sculpture fitted easily with our culture. The subject most depicted are our totems… the most important part of our culture. They form the basis for our stories and songlines". Artist Michael Norman further comments about his crab sculpture (Image 2), "Mud crabs are an important totem for all saltwater people, like my Thayorre clan group. They live in the mangrove swamps and we used to hunt for them with spear and club. These days we use net traps that we place in our rivers".
Many of the artworks displayed on the ground floor have also drawn inspiration from nature, such as Phil Gordon's Large Wombat (image 3), Dean Rusling's Bribie Island Ballet Crabs (Image 4) and Alick Sweet's Wild Boar (Image 5). These sculptures all speak to a reverence and fascination with native wildlife.
Alongside these floor and tabletop sculptures, David Paulson has created a series of 19 small scale relief sculptures depicting  often grotesque and fragmented portraits (Images 6 & 7) beside 12 more familiar miniature portraits on canvas. After 20 years of living on acreage at Maleny, David and his wife Judy have recently downsized into an apartment in Brisbane. The smaller scale works have been created in the artist's new, downsized studio without sacrificing any of the detail and awe prevalent in his previous larger artworks.
FireWorks Gallery Director, Michael Eather comments, Evidence of Scale is a celebration of new hand-made sculptural works. It's full of surprises with a diversity of mediums and attitudes towards materiality and conceptual play. From oversized Ghost net sculpture from Pormpuraaw in the tropical north, to miniaturised impressions of the human condition by city-based David Paulson, it's always exciting to see artists using age-old skills and techniques to create contemporary forms.