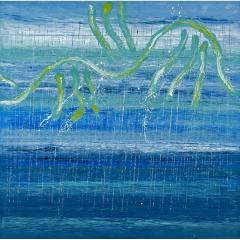 Exhibition title/s:

Matches 7: Michael Nelson Jagamara -  A Shared Space

Exhibition duration: 

25 October – 30 November 2019

Where:

FireWorks Gallery, 9/31 Thompson St, Bowen Hills

Exhibition opening:

Saturday 26 October 2019, 3-5pm 

 

Media Contact:

 

Michael Eather

Phone:

0418 192 845

Email:

Exhibition cost:

Free
Matches 7 - A Shared Space will celebrate the work of seminal Papunya (NT) artist Michael Nelson Jagamara. This exhibition showcases his distinctive style as seen in solo, experimental & collaborative works. A range of 50 works includes small and large paintings on canvas + paper, limited edition prints + sculpture; even homewares, largely created in Brisbane over the last 25 years. 
Michael Nelson Jagamara (MNJ) originally began painting in the late 1970s in the classic dot & circle tradition of desert sand painting at Papunya, the spiritual home of desert art. Much of his work focuses on the traditional 'creation stories' and imagery from Pikyili, his birth place in the Central Desert of NT. These includes stories such as: Possum ancestors, Kangaroo, Emu, Bush Turkey, Yam & Lightning. During a meteoric rise to fame in the 1980s, MNJ was selected for national public commissions including Parliament House, Canberra; Opera House Sydney and BMW Art Cars, to name a few.
By the late 1990s, MNJ had reinvented his approach to painting, opting at times to dispense with dots for a striking 'expressionistic' style. Regardless, MNJ has continued to make the salient point that although the appearance of works will often change, his Warlpiri tribal stories do not!
Beginning with his involvement in the Asia Pacific Triennial at QAG in 1996 & 1999, it was during this critical travel and transition period that possibilities for collaboration & experiments into sculpture and design were formed. From 1996, and continuing still today, MNJ has made numerous trips to Brisbane to work alongside an enthusiastic band of fellow artists, curators & artisans.
Michael Nelson Jagamara - A Shared Space focuses on MNJ's essential story/place images and in doing so covers something of this unique artistic trajectory. Examples of paintings in a desert dot style and more minimal expressionist works alongside early experiments on paper are all placed in proximity together in the Ground Floor gallery.
A large part of Jagamara's contemporary practice & recognition has been his ability to work with other artists. In the mezzanine gallery are lively examples of collaborations with Indigenous & non-Indigenous artists including David Paulson, Ian Waldron, Imants Tillers, Joanne Currie Nalingu, Michael Eather and Rosella Namok. In 2014 Jagamara's graphic gestural forms were re-imagined as classic hard-edged sculptures. These have been fabricated in a variety of sizes in bronze, polished stainless steel, polyurethane and aluminium with examples on display.
For the more budget conscience collector, FireWorks gallery has an extensive range of MNJ's limited edition prints & original works on paper including a 2016 commemorative limited edition print of Five Stories 1984. This remains MNJ's iconic image, & as many critics have since commented, arguably catapulted both he & his peers into the epicentre of a global arts movement when the work first went to New York and featured in the Dreamings exhibition in 1988! When the original work was resold in 2016 for $680,000AUD it became (and remains) the highest price paid for a work by a living Indigenous artist.
Boutique homewares by MNJ are also on display with a hand knotted New Zealand wool rug featuring MNJ's Yam design in striking black and white; & complimentary Possum Pawprint cushions!
Gallery Director Michael Eather comments: "The FireWorks Matches 2019 series has more often paired different artists together. However this show honours one man Michael Nelson in all his facets….and importantly we are having it whilst he can still enjoy it all with us. This collection casually surveys but generously highlights how for decades, MNJ has connected his timeless stories with so many divergent artistic styles, materials and cultural traditions."
Artwork prices range from: $150 - $36,000