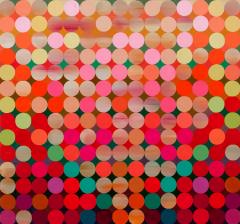 Exhibition duration:  Thursday 1 August – Saturday 7 September 2019
Where: FireWorks Gallery, 9/31 Thompson St, Bowen Hills
Exhibition opening: Saturday 3 August, 2-4pm (Artist Floor talk at 2.30pm)
In Matches 5 Indigenous Kurtjar artist Ian Waldron from the Atherton Tablelands and English born, Melbourne based artist Matthew Johnson have been linked through their celebration of colour, pattern and the Australian bush. This exhibition includes paintings by each artist as well as an immersive collaborative installation including sculptural works by Ian, digital prints and a video work by Matthew.
The catalyst for the exhibition was a visit by Matthew Johnson and his son to Ian on his family's traditional land and cattle station, Delta Downs; the largest Indigenous run station in Australia, where they explored the natural surroundings including catching and cooking fresh water turtle. This visit inspired the title of the exhibition Nirdakiy; a Kurtjar word meaning a special place on middle creek, in the artist's country (Images 1 & 2).
Ian worked as a ticket writer before studying fine art in the mid-1990s. His profound understanding of composition and colour are evident in his works. Two common features in Ian's practice are his use of Indigenous (Kurtjar) language and the Bloodwood totem. Ian's new series Chitta Chatta feature overlapping Kurtjar words in vibrant colours (Image 3).  
Bloodwood Totem poles (or Yuaarr), another signature for Waldron both in his painting and sculptural works, represent one of the most important species of flora of the artist's traditional country in the Gulf of Carpentaria; the Bloodwood tree (Image 4). This eucalyptus encased in a thick, rough bark and a hardwood often used for making didgeridoos gained its name from the red sap that flows from it when cut and is a family totem for Ian Waldron.
Abstract artist Matthew Johnson is best known for his oil paintings of delicately blended circles, like pixels of a magnified picture blurred into patterns. This exhibition will also focus on his solid circle works and showcase the artist's new digital prints and video work (Image 5). Though abstract, the works in this exhibition represent his journey onto country with Ian. Matthew explains that for him, his circular motifs have become something of his own totem not dissimilar to Ian's Bloodwood poles.
Both Matthew and Ian work with colour, repetition, pattern, stripes and sequential arrangements drawn from and amplifying natural elements. FireWorks Gallery Director Michael Eather comments, "Over the years I have witnessed a natural synergy between these two dynamic artists. Ultimately both artists colour and imagery is guided by the Australian Bush. Their work and experiences independent and together make for a perfect match".
Artwork prices range from: $2200 - $16500