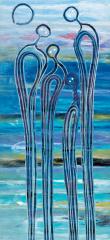 FireWorks Gallery is proud to present exhibitions by three artists; Fiona Omeenyo Ancestor Spirts at Double Stone, Rod Moss Crossing the Great Divide and FireWorks Gallery's newest represented artist Itamar Under the Sun.  Fiona new works include sculpture and eighteen acrylic on canvas paintings. Works by Rod Moss are a mix of graphite as well as graphite and synthetic polymers on paper.  Itamar exhibition encompasses sculptures, artwork projection and limited-edition prints.  The common curatorial thread linking the exhibitions is the various interpretations of human interaction with both others and the land.
Fiona's (Far-North Queensland) realm of ideas stems from her relationship as a mother to her three children. The artists' work offers the viewer a distinctive figurative style associated with ancestral figures.  This technique which the artist uses involve a combination of gestural imagery interweaved with layers of dazzling colour.  The exhibition comprises works relating to subjects in her homeland Lockhart River (North Queensland) and her ancestry, as with image FW18374 Day with family.
Rod has been living and working in Alice Springs since graduating from a Masters of Art at Monash University.  The imagery he draws and paints offers viewers a closer look into Aboriginal daily life in the desert.  Rod's graphic works appear to focus on the mundane; the poses by the Aboriginal subjects in his work can often confront one's knowledge and ignorance of Indigenous life.  Enlivened and challenged by the traditional lifestyle and the urbanisation of the Arrernte families, Rod has devised a method of combining painting and drawing which depicts the realities of a life lived, coupled with a symbolic and heroic narrative (see image FW18742 And Themis moved across the land).  Rod will be launching two books in conjunction with his exhibition.  Rod's memoir; Crossing the Great Divide as well as Blue Moon Bay "A laugh-out-loud story set in a small Australian coastal town, with weird and comically absurd characters and some surprising additions to the Aussie vernacular".
In this show, Itamar (who lives and works in Australia, USA, UK and Israel) researches the borders between the photographic medium and sculpture. Under the Sun includes sculptural works (FW18698 The Kiss (Study of Auguste Rodin)) as well as featuring a series of polymeric photographic facial casting of Australian parents and their children.  These photographic facial casts function as casted sculptural images, as death masks, upon which Freed projects and digitally maps the subjects own portrait photographs.   Itamar asks questions about the ability of the photographic medium to preserve, to freeze and to grasp life and nature to create a threshold between real and imagined, beyond the bounds of time and place. For the artist, the photograph is a token, a sentimental relic of a moment in time.
Gallery Director Michael Eather commented: "A unifying element in these three exhibitions encompasses the fascination of people, their lives and their ancestry".  The mundane and the extraordinary human and land relations are explored by these three curious artists throughout their work.