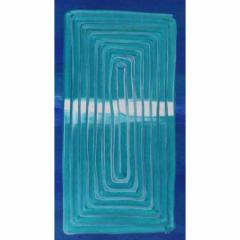 Exhibition title/s:

Matches 4:  Rosella Namok Sand Scribe & Merryn Trevethan Floating Cities

Exhibition duration: 

21 June to 27 July 2019

Gallery Hours:  Tues to Fri: 10am – 6pm   Sat: 10am – 5pm

Where:

FireWorks Gallery, 9/31 Thompson St, Bowen Hills

Exhibition opening:

Saturday 22 June 2019 2-4pm

 

Media Contact:

 

Michael Eather

Phone:

0418 192 845

Email:

Exhibition cost:

Free
Indigenous artist Rosella Namok and non-Indigenous artist Merryn Trevethan will be displaying paintings and sculptures in Matches 4. These artists, although demonstrating very differing and distinctive styles, both celebrate a pronounced passion for vibrancy of colour. Tropical locales of both Namok's Lockhart River/Cairns and Trevathan's Singapore have influenced this. Lockhart River is a remote beach and rainforest reserve (some 800 kilometres north of Cairns) which is in stark contrast to Singapore with its densely populated high-rise and vertical living environment. Michael Eather, FireWorks Gallery Director states, "These two artists instinctively create art which reflects the changing relationships between the natural and built environments in which they live and work." 
Sand Scribe, an exhibition of ten new paintings, reveals Namok's instinctive obsession with the Far North Queensland coastal landscape and its natural habitats. Often drawing directly in the painted surface with her fingers, the artists linear markings are etched with a raw yet distinctive elegance.  Universal connections are composed within lurid tropical colours. Paintings include the repetition of tidal markings and the rhythm of bamboo stalks (Bamboo at Watchee). These variations can simultaneously represent her homeland and community; her home (New houses close to the beach) and family or perhaps even herself! (Selfie (by the water)).
At the core of Merryn Trevethan's first exhibition at FireWorks, Floating Cities (paintings and sculptures) are abstracted cityscapes depicted with highly saturated colours and image transfers as can be seen in works such as Provable falsehoods and Zeroland...(the cube) II.  The artist commented, "Floating Cities…is a world shaped by the unwavering flatness of screens, by the endlessness of feedback loops and fake news.  A world in which we are constantly surveyed both on and off line and what we see so often governed by unknown algorithms. A world where nothing is seen in isolation, everything is relational and we are never offline." 
Both artists look at forces of nature, in housing and blueprints. Namok's loose hand drawn observations and Trevethan's finely tuned gridded architectural rendering give us a glimpse into their vastly different environments. Matches 4 will be opened by Chris Saines, Director QAG|GOMA.
Artwork prices range from $2400 to $35000
IMAGE CAPTIONS:
1. FW18244 Rosella Namok  Bamboo at Watchee  2018  acrylic on canvas 180 x 315cm
2. FW18508 Rosella Namok  Selfie (by the water) 2018 acrylic on canvas 79 x 44cm
3. FW17714 Rosella Namok  New houses close to the beach 2017 acrylic on canvas 122 x 152cm
4. FW18879 Merryn Trevethan Floating cities 2018 acrylic on canvas 92 x 93cm
5. FW18865 Merryn Trevethan Provable falsehoods 2017 acrylic on canvas 92 x 264cm
6. FW18872 Merryn Trevethan Zeroland...(the cube) II 2018 digital print on adhesive vinyl on Plexiglass with lightbox 40x40x35cm