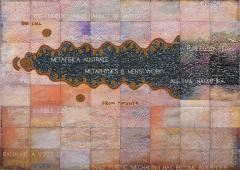 Two major artists, Michael Nelson Jagamara and Imants Tillers, were 're-united' in 2001 at FireWorks Gallery's Winn Street Studios in Fortitude Valley; in the month of July they completed their first collaborative work Nature Speaks Y / Confused Possum. Since then an additional twenty paintings have been completed, of which five will form the centrepiece of this exhibition The Call from Papunya. Alongside these collaborative paintings will be an additional twenty-two paintings, sculptures as well as a magnificent hand knotted NZ wool rug – created by the artists individually – which will act as reference to the centrepiece works.
Michael Eather, FireWorks Gallery Director, facilitated the collaborative project; originally, seven collaborative works were planned. Chapter One culminated in the momentous 2008 Fatherland. This was soon followed by Chapter Two, with an additional six works, closing in 2012 with The Loaded Ground (Drill Hall ANU Canberra exhibition and associated publication) featuring the momentous 165 canvasboard work Hymn to the Night. The latest chapter includes The Messenger, a 64-panel square format work, which featured in the exhibition Meeting Place at Parliament House Gallery, August-November 2017 (this work being subsequently acquired by APH Art Collection). Also, recently completed was Metafisica Australe, 72 canvasboards, which showcases Michael Nelson's seminal 1984 work, Five Stories, repainted and reimagined in a collaborative format. Tillers' (born 1950, Sydney) multiple canvasboard panels which fit together to form large, gridded works is also utilised for his collaborations with Jagamara with canvasboards moving backwards and forwards between the artists' studios in Papunya, Brisbane and Cooma.  Opportunities for ongoing dialogue are expressed visually through private vernaculars of colour, shape, text and composition. (See attached PDF for collaboration exhibition history).
Jagamara (born 1946, Pikilyi, Vaughn Springs NT) was the recipient of the inaugural 1984 Telstra National Aboriginal Art Award. During the late 1990s, he reinvented his approach to painting with a more expressive style, maintaining that his stories have never changed. Jagamara was a solo artist for the 1999 QAG Asia Pacific Triennial; around this time Simon Wright curated MNJ Without the Story, the Painting is Nothing, Brisbane City Gallery. Jagamara's Moving Storm won the 2006 Tattersall's Club Landscape Art Prize, Brisbane. The artist's significant contribution to art was recognised in 2008, when he was awarded an Honorary Doctorate from the University of New South Wales. Three years earlier, Tillers himself was awarded a Doctorate of Letters by the University of New South Wales after a longstanding career, including representing Australia at the Venice Biennale (1986), Documenta 7 (1982) and the Sao Paulo Bienal (1975). Both Tillers and Jagamara have been selected for noteworthy public commissions as well as group exhibitions such as Dreamings: Aboriginal Australian art meets De Chirico at the Museo Carlo Bilotti in Rome (2014). In July 2018, the most comprehensive retrospective exhibition of Tillers' work to date will be held at the Latvian National Museum of Art in Riga. A feature-length documentary on Tillers' life and work, produced by the Juris Podnieks Studio, Riga, will be released at the same time; this documentary includes segments where Tillers visited Jagamara's Papunya home in April 2017 to discuss the progress of Metafisica Australe.
Both artists works are held in numerous private, corporate and most public collections in Australia and overseas. Recently, the 2017 work  Metafisica Australe was acquired by QAGOMA. Eather commented, "within Metafisica Australe, Jagamara's Five Stories now sits within a communal, but uncompromised painterly landscape of spiritual enquiry".