Welcome TWO (Thompson Street)
19 September 2018

to

3 November 2018
Artists
Click orange artwork title to see pricing or email us here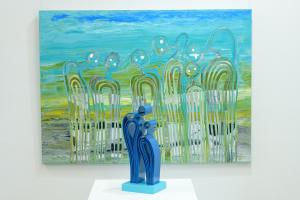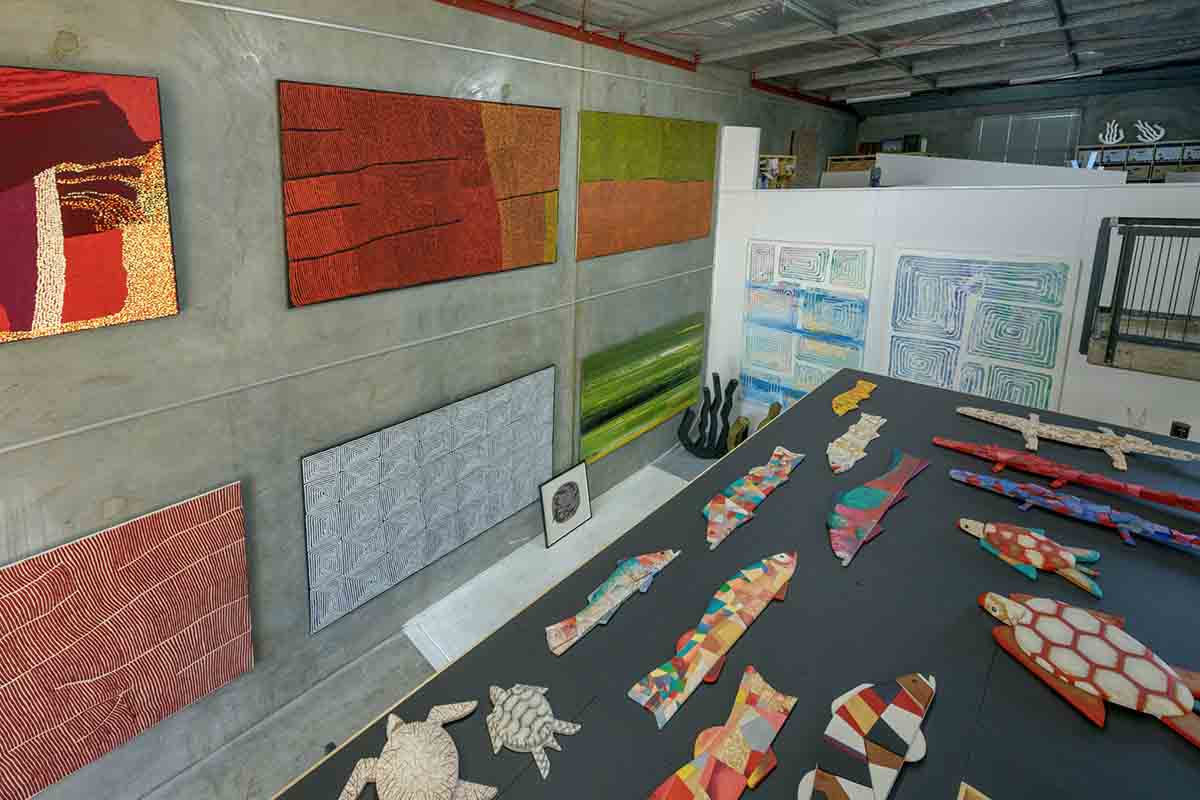 Works by three south east Queensland based artists; Yvonne Mills-Stanley, Joanne Currie Nalingu and Alick Sweet will be on display. Yvonne's superbly crafted oil paintings are loaded with a strong metaphor for the spirit and movement of grass producing a peaceful, tranquil sensation. Also creating a sense of tranquillity are new works by Joanne Currie Nalingu (born Mitchell) who uses a distinctive linear method in her painting to reflect the light and flow the Maranoa River. Joanne is a previous Wynne Prize winner. Contrasting these serene paintings is a new installation, Finals Fever by local artist Alick Sweet. This is an energetic collection of brazenly painted fish shaped wall sculptures individually themed to represent all 18 ALF teams; Just in time for Finals Fever! Art and footy have never has a visual marriage like this!
Alongside these local artists are works by Far North Queensland Artists Fiona Omeenyo and Glen Mackie. FireWorks Gallery has been working with Lockhart River artist Fiona Omeenyo to develop 3D expressions of her distinctive figurative work. Earlier this year, her award winning sculpture Family was unveiled in the forecourt of International Education Services, Spring Hill campus. This exhibition will showcase her new smaller scale table sculptures Mother & child in a similar format.
Glen Mackie, a master printmaker from the Torres Straits, has a dynamic bold black and white design sensibility featuring confident threadlike lines depicting an oceanic encyclopaedia of cultural imagery. He explains that he has been elected as Yam Island's 'official' storyteller. Glen's mission is to keep alive the sacred stories. 
Also in this exhibition is Kudditji Kngwarreye (now deceased). Kudditiji (from Utopia NT) was a dominant force and his work transports us into his vast landscape and often beyond! His dramatic colour combinations can be confronting but always exciting.  The show will include two spectacular 3 metre paintings as well as smaller, domestic sized paintings.
FireWorks Gallery Director, Michael Eather comments, "Whilst we are settling into our new space at Thompson Street we are running a series of group shows that celebrate the diversity of our artists with a particular Queensland accent. We are so pleased with visitors' first impressions hereand  we plan many events on Saturdays, it's relaxed here on the creek with plenty of parking".