16 August 2014

to

23 September 2014
Artists
Click orange artwork title to see pricing or email us here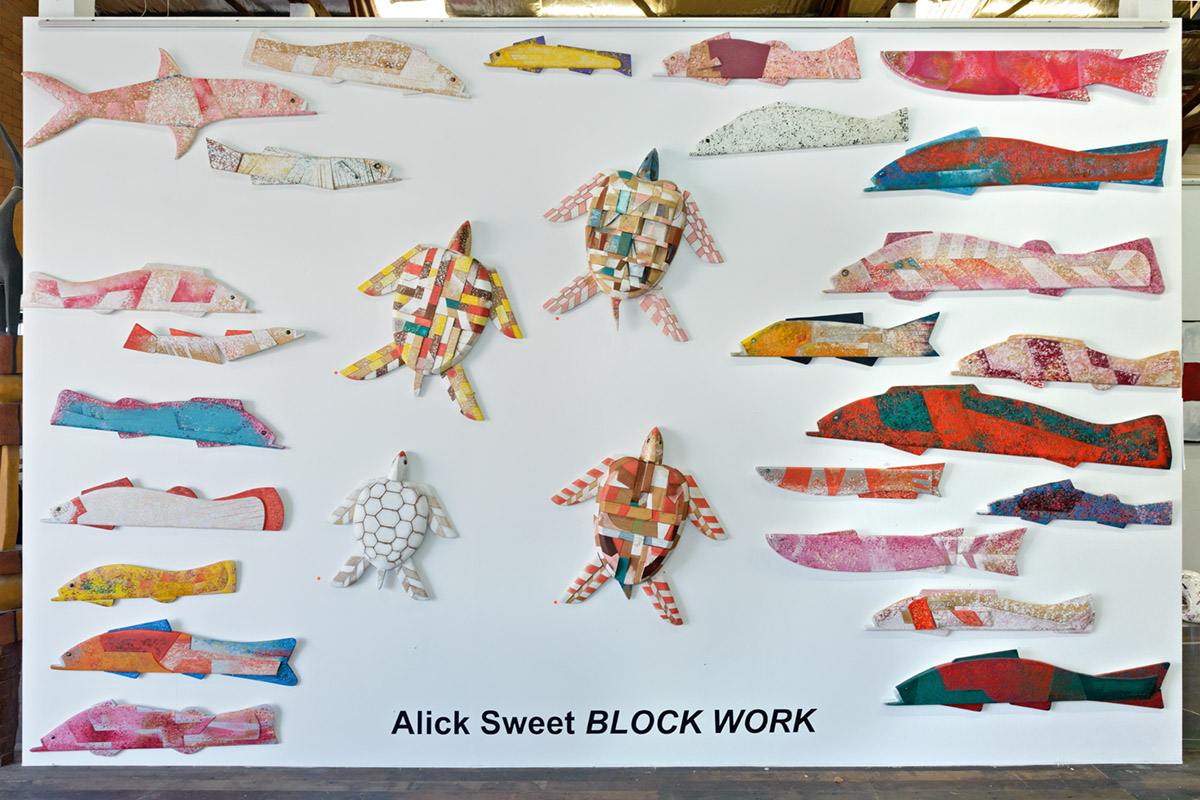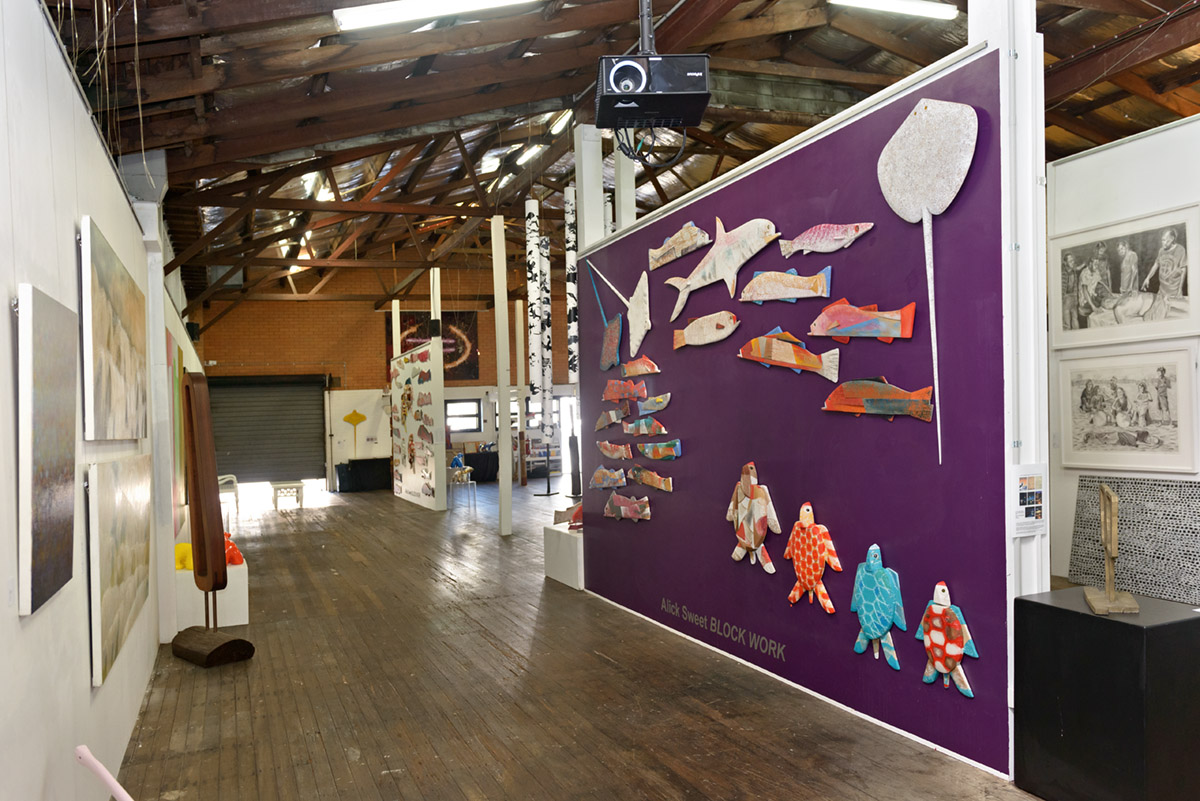 In its colourful construction, BLOCK WORK conjures, for those of us who remember, the vibrant solidity and infinite possibilities of the Cuisenaire rods that were used as an aid to the teaching of arithmetic to primary school children in the 1950s and 60s. Sweet, who describes himself as 'a veteran of the scene', would certainly remember. His skills as a designer/maker are legendary – in the past harnessed to create large animals like kangaroos and cassowary – and most recently focused on smaller scale works. These installations feature fish and turtles. The reasons for this are pragmatic: he says, "They are simpler: more manageable than the large animals". Sweet has almost always focused his artistry on Australian native animals. His significant influence is Indigenous Australian artists yet, in terms of his sensitivity to materials and the acute observation visible in his work, Sweet may be seen to match his Indigenous colleagues. He is also a swimmer himself – these fish and turtles exhibit a streamlined competence, a sense of movement and harnessing of watery reflections that speak to much fieldwork. Swim School is ostensibly an assemblage of sophisticated colour and shape although its title may allude to Sweet's lifelong interest in education (and completion of six higher degrees in recent decades). Its simplicity and embrace of the technical, while utilising his considerable experience as a sculptor, allow for his creative pursuit of both the fish and turtles, as intuitive, the former driven by the development of an essential fishiness. He has, he suggested, "Yet to make the ultimate fish", which compels him to continue these aquarium investigations – in form, colour and timber. Wooden blocks, already carved and sanded into different shapes, are assembled. Colours vary – much as fish species are individually created as a myriad of possibilities – and may emerge from paint already on the found timber shapes, or sprayed and speckled in a more holistic way as the sculpture is finished. Some are united with colour over their piecemeal construction – others express their colour variance with their origins from different pieces of wood. Sweet is an artist at the top of his skills. The time he has vested in study in both art and education means that the apparent simplicity in these works is knowing and conceptually rich. Smaller scale sculpture sees him losing none of the impact and theatre of the larger animals he has created in the past. He said, "With larger works you become a bit of an entertainer". This latest outcome, its spectacle vested in over 45 pieces, creates no less theatre for the viewer. Courtesy of Louise Martin-Chew, 2014
In its colourful construction, BLOCK WORK conjures, for those of us who remember, the vibrant solidity and infinite possibilities of the Cuisenaire rods that were used as an aid to the teaching of arithmetic to primary school children in the 1950s and 60s. Sweet, who describes himself as 'a veteran of the scene', would certainly remember. His skills as a designer/maker are legendary – in the past harnessed to create large animals like kangaroos and cassowary – and most recently focused on smaller scale works. These installations feature fish and turtles. The reasons for this are pragmatic: he says, "They are simpler: more manageable than the large animals".
Sweet has almost always focused his artistry on Australian native animals. His significant influence is Indigenous Australian artists yet, in terms of his sensitivity to materials and the acute observation visible in his work, Sweet may be seen to match his Indigenous colleagues. He is also a swimmer himself – these fish and turtles exhibit a streamlined competence, a sense of movement and harnessing of watery reflections that speak to much fieldwork.
Swim School is ostensibly an assemblage of sophisticated colour and shape although its title may allude to Sweet's lifelong interest in education (and completion of six higher degrees in recent decades). Its simplicity and embrace of the technical, while utilising his considerable experience as a sculptor, allow for his creative pursuit of both the fish and turtles, as intuitive, the former driven by the development of an essential fishiness. He has, he suggested, "Yet to make the ultimate fish", which compels him to continue these aquarium investigations – in form, colour and timber.
Wooden blocks, already carved and sanded into different shapes, are assembled. Colours vary – much as fish species are individually created as a myriad of possibilities – and may emerge from paint already on the found timber shapes, or sprayed and speckled in a more holistic way as the sculpture is finished. Some are united with colour over their piecemeal construction – others express their colour variance with their origins from different pieces of wood.
Sweet is an artist at the top of his skills. The time he has vested in study in both art and education means that the apparent simplicity in these works is knowing and conceptually rich. Smaller scale sculpture sees him losing none of the impact and theatre of the larger animals he has created in the past. He said, "With larger works you become a bit of an entertainer". This latest outcome, its spectacle vested in over 45 pieces, creates no less theatre for the viewer.
Courtesy of Louise Martin-Chew, 2014